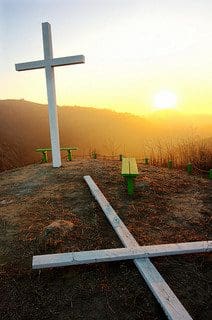 I originally wrote this July 4, 2010. Trying to organize the website I ran across this and decided to do some cleaning up. Only a couple days after Christmas, I felt it relevant to re-publish. The extreme forgiveness of Christ is evidence of His divinity. I don't think without a truly righteous, loving God we could actually forgive our murderer as he killed us. Jesus did.
Sweet Little Jesus Boy – Rebecca St. James:
You have told us how, we are trying,
Master You have shown us how even when You were dying.
Just seem like we can't do right, look how we treated You.
But please forgive sir, forgive us Lord
We didn't know it was You,
Coming home from school the other day I was playing this song by Rebecca St. James. It made a very deep impression on me. A very profound impression.
Luke 23:32-34 (NIV):
Two other men, both criminals, were also led out with him to be executed. When they came to the place called the Skull, there they crucified him, along with the criminals—one on his right, the other on his left. Jesus said, "Father, forgive them, for they do not know what they are doing. And they divided up his clothes by casting lots.
The profound statement was one that convicted me deeply. I felt as if God in one line had reduced me to a mere gnat and He a towering Mountain above me.
How often do I fight back hateful words when I get cut off on the highway? Yet here Jesus was with His hands impaled by metal spikes dangling from a cross experiencing unimaginable pain as His life blood literally poured out of Him and what did He have to say about those who had personally nailed his hands and the crowd that had chanted for his death?
"Forgive them, Father."
Could I, in Christ's position on the cross, ask God to forgive my murderers? I don't think I could and there is some shame in that truthful answer. Thank you, Jesus for God's unmerited grace!
Next time we want to lash out, it'd serve us well to remember God's example. Or maybe we're holding onto bitterness and anger? We're far from perfect and I know I'll struggle with this and probably continue to be human…but it really pulls at my heart to realize how perfect God's forgiveness for us really is.
You have told us how, we are trying,
Master You have shown us how even when You were dying.
Just seem like we can't do right, look how we treated You.
But please forgive sir, forgive us Lord…
[youtube]http://youtu.be/gWMSYizZ6hE[/youtube]