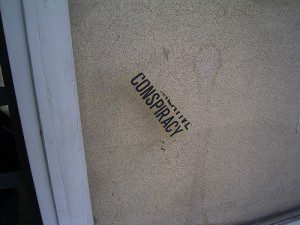 Conspiracies are plentiful nowadays. Some of them are crazy, others have some sense of truth. Ultimately, I try not to think about them. Some may say that I'm choosing to be ignorant, and, maybe I am. But here is how I see it, from behind my computer I'm not going to be able to discern the truth.
I can protest, yes, and there is a place for protest (that's why it's a guaranteed right in America.)  However, chances are, as a student in North Oakland County with little to no influence over anyone or anything, there isn't anything I can do about it. Or is there?
Fear Breeds Violence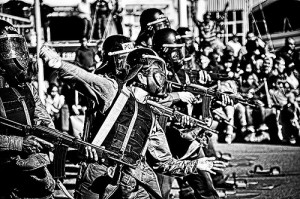 The problem with conspiracies is that if they are true, then the logical response to many of them is armed conflict. If I truly choose to accept and believe that there is an impending New World Order using my government to prepare itself to brutally repress and kill the population the only logical response would be to arm myself and start taking out targets. That's the end game.
I'm sorry, but I'm not willing to become that person. I would much rather die innocent than die in a blaze of glory and have been wrong—killing innocent people in the process. Nor do I want to be the person who helped influence someone to do something evil. No, I will not be that person.
The Real Conspiracy
There is one conspiracy that I am confident is true. Throughout all of human history the Enemy, Satan, has struggled to steal, kill, and destroy. The Enemy is very good at what he does. Whether he does it directly or whether he can be credited with influencing our corrupted flesh to act out it's own evil—he is very good at it.
The Bible says this in Ephesians 6:12 (AMP):
For we are not wrestling with flesh and blood [contending only with physical opponents], but against the despotisms, against the powers, against [the master spirits who are] the world rulers of this present darkness, against the spirit forces of wickedness in the heavenly (supernatural) sphere.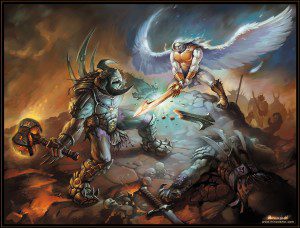 I encourage you to read what Paul tells us to do. It involves arming ourselves, but not with physical weapons that rend flesh and spill bones. In fact, let me share with you what Paul has to say. It is lengthy, but I urge you to take a moment and read it. I have included Ephesians chapter 6, verses 13-18 (my emphasis added):
13 Therefore put on God's complete armor, that you may be able to resist and stand your ground on the evil day [of danger], and, having done all [the crisis demands], to stand [firmly in your place].

14 Stand therefore [hold your ground], having tightened the belt of truth around your loins and having put on the breastplate of integrity and of moral rectitude and right standing with God,

15 And having shod your feet in preparation [to face the enemy with the firm-footed stability, the promptness, and the readiness produced by the good news] of the Gospel of peace.

16 Lift up over all the [covering] shield of saving faith, upon which you can quench all the flaming missiles of the wicked [one].

17 And take the helmet of salvation and the sword that the Spirit wields, which is the Word of God.

18 Pray at all times (on every occasion, in every season) in the Spirit, with all [manner of] prayer and entreaty. To that end keep alert and watch with strong purpose and perseverance, interceding in behalf of all the saints (God's consecrated people).
False Security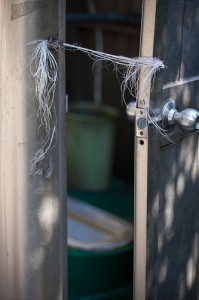 It is human of us to be fearful and take matters into our own hands. It is another thing to release them into the capable hands of an All-Powerful God. Why is this? Our faith is weak. We don't see Him. We are distracted by hurt, anger, fear, and distractions. We don't realize that our greatest power isn't in our guns or our knowledge, but in a prayer, as is said plainly in the latter part of James 5:16 (NIV),
The prayer of a righteous person is powerful and effective.
And also through the prophet, in Zechariah 4:6 (NIV),
'Not by might nor by power, but by my Spirit,' says the Lord Almighty.
I Will Not Be Afraid
I praise God for what he has promised.
I trust in God, so why should I be afraid?
What can mere mortals do to me? – Psalm 56:4 (NLT)
I am confident that should something terrible happen, God will raise up the protection that is needed for me and my family. At the time that danger is near, God will make it undeniably clear to those who follow Him what is about to come and give us a way out. Just like when the September 11th attacks, many, many Christians recount stories of unexplainable events either preventing them from making it to work or drawing them away before the planes hit. A conspiracy was unfolding that would take the lives of many that not even our own government knew was unfolding, yet God knew and God alerted many.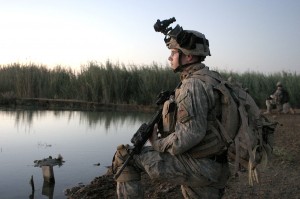 All of Psalm 91 praises the miraculous saving hand of God. I find it an amazing coincidence that Psalm 91:1 reads:
He who dwells in the secret place of the Most High shall remain stable and fixed under the shadow of the Almighty [Whose power no foe can withstand].
And, as evidence of Ephesians 6, many centuries before in 2 Kings 6:15-17 (NIV),
15 When the servant of the man of God got up and went out early the next morning, an army with horses and chariots had surrounded the city. "Oh no, my lord! What shall we do?" the servant asked.

16 "Don't be afraid," the prophet answered. "Those who are with us are more than those who are with them."

17 And Elisha prayed, "Open his eyes, Lord, so that he may see." Then the Lord opened the servant's eyes, and he looked and saw the hills full of horses and chariots of fire all around Elisha.
No Secrets
Jesus told His disciples as is recorded in Matthew 10:26 (AMP),
So have no fear of them; for nothing is concealed that will not be revealed, or kept secret that will not become known.
I firmly believe that this is true. At the right time, when God decides, the right person will come across the right information. All things will be revealed in due time. When this information becomes undeniable, then we can act. But until that time, stand vigilant, pray, and do not fear.